Meet our team
Our doctors are always there for you. Same Day Appointments Available.
Biography
Dr. Leonardo J. Akan obtained his medical degree (M.B.B.S.) from the University of the West Indies. He completed Paediatric Residency training at the University of Miami/ Jackson Memorial Hospital. He served as Chief Paediatric Resident after graduation and obtained board certification with the American Academy of Pediatrics. He then completed a fellowship in Pediatric Endocrinology at the University of Miami and returned to Trinidad and Tobago to start the first growth hormone administration program for children in the public hospital system.
.
In private practice, Dr Akan has started a comprehensive newborn screening program for inborn errors of metabolism, newborn hearing and vision screening. He is certified in insulin pump training and runs a support group for patients with continuous glucose monitoring systems.
.
Dr. Akan has been practicing in clinical Paediatrics for over 20 years. He is also employed with the North Central Regional Health Authority as a consultant in Paediatrics and manages the Paediatric Endocrinology Services with the assistance of dedicated hospital colleagues. He is also an Associate Lecturer in Paediatrics with the University of the West Indies and enjoys teaching medical students.
.
He practices Paediatrics and Paediatric Endocrinology and Metabolism at ABC Paediatrics and has organized the Transformer Fitness Program with a group of healthcare professionals located nationally.
.
"Nelson Mandela said, "There can be no keener revelation of a society's soul than the way in which it treats its children." And so I believe that if you want to build a better society then nurture "a better child". One of the many things ABC means to me."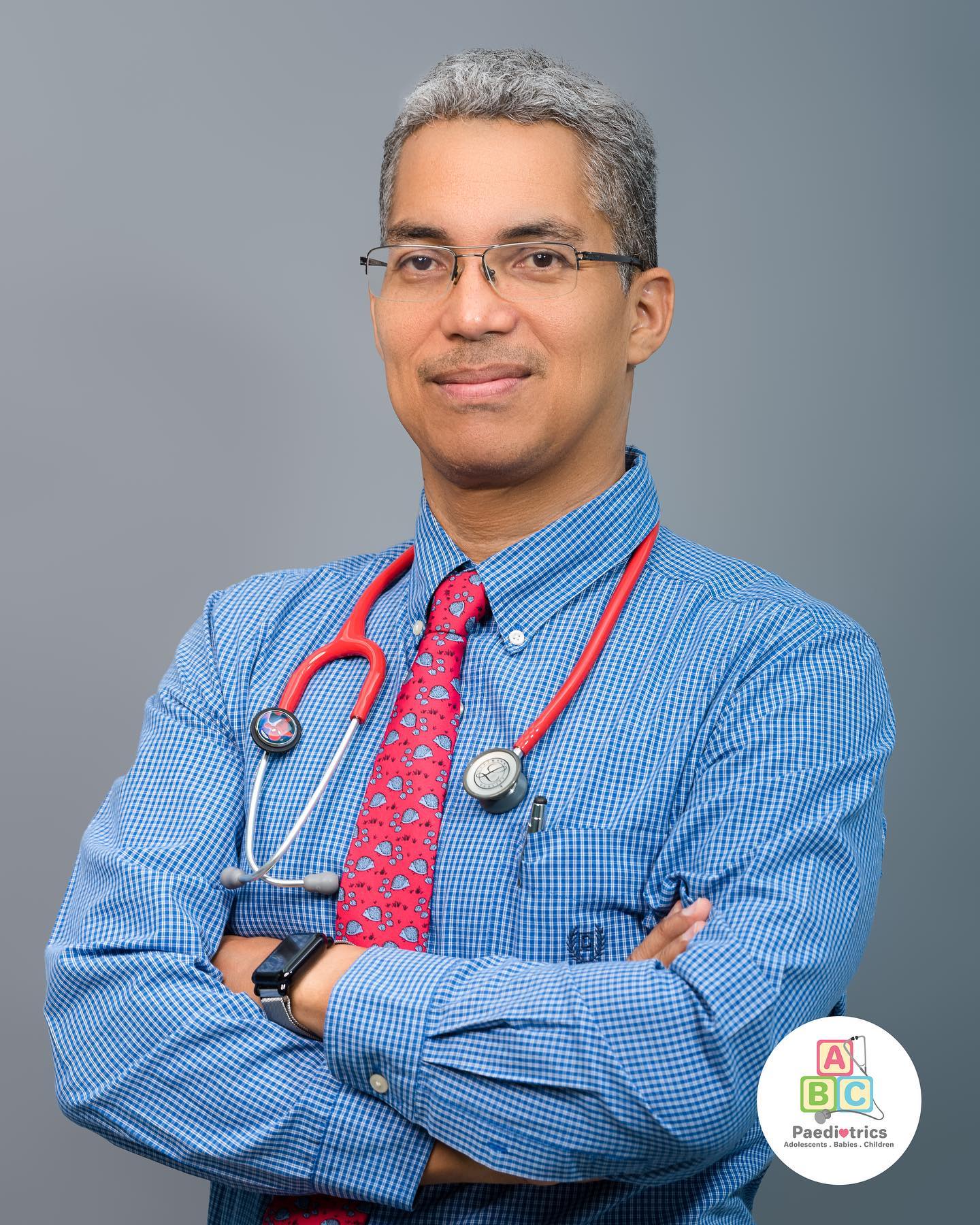 Dr. Leonardo Akan
Paediatric Endocrinologist
Co-Founder of ABC Paediatrics
Dr Tricia Jailal
Paediatrician
Co-Founder of ABC Paediatrics
Biography
"As a mom, I would do anything to keep my children safe and healthy. As a Paediatrician, I have the opportunity to help other parents keep their children safe and healthy. ABC provides an amazing platform for this as you can find almost any specialty in one place." – Dr Tricia Jailal
.
Dr Jailal's journey began when she graduated from The University of the West Indies where she obtained her medical degree. She then went on to achieve her dream of specialising as a Paediatrician through the Royal College of Paediatrics and Child Health in the United Kingdom.
.
She has worked in the field of Paediatrics for the past seven years. During her time employed at the North Central Regional Health Authority she had the privilege of working in various aspects of Paediatrics which included the medical wards, emergency department, subspecialty clinics and the neonatal ICU which led to her holistic development as an experienced and compassionate Paediatrician.
.
In 2018, Dr Jailal decided to leave public practice to focus on motherhood and private practice. "The way I viewed Paediatrics changed when I became a mother. I had a newfound appreciation of the depths mothers would go to for their children and the feeling of despair when they're ill." As a result she decided to use the power of social media to embark upon parental education through videos in order to benefit as many people as possible.
.
She firmly believes, "It is our job as parents to be the best advocate we can for our child. Knowledge empowers you."

Biography
Graduating from the University of the West Indies as a Doctor of Medicine in 2010, it was always a passion of hers to work in Paediatrics. After spending some time in Paediatric Emergency, she decided to pursue her dream. In 2017, she graduated from the DM programme as a Paediatrician.
.
Dr Ranghell's knowledge and experience in Paediatrics grew as she rotated on the Paediatric wards, Neonatal ICU, Oncology and the Paediatric clinics. While on rotation, her desire to help sick children alongside other passionate doctors like herself became stronger.
.
She had the pleasure of working in Paediatrics for eight years and when the opportunity arose to work with an amazing team at ABC Paediatrics there was no doubt in her mind. Dr Ranghell is one of our General Paediatricians but is also currently employed at the North Central Regional Health Authority in the Neonatal ICU as an acting Consultant.
.
Dr Ranghell believes that working with children is one of the most fulfilling joys that exists, and she says that: "seeing the smile that emerges on their face once they feel better makes it all worthwhile. Being part of ABC Paediatrics this quote holds true: "While we try to teach our children about life, our children teach us what life is all about." Angela Schwindt."
Dr. Cara Ranghell
Paediatrician
Dr. Tricia-Marie Choya
Paediatrician
Biography
Dr Tricia-Marie Choya graduated as a Medical Doctor in 2010 from The University of the West Indies. She decided to dedicate her career to helping children which led to her becoming a Peadiatrician through the Royal College of Paediatrics and Child Health in the United Kingdom, while concurrently completing the DM Paediatrics with the University of the West Indies.
.
Dr Choya has worked in the Special Care Baby Unit at Port-of-Spain General Hospital and at the Eric Williams Medical Sciences Complex over the last 9 years where she gained knowledge and experience in many fields of Paediatrics, including, Cardiology, Haematology, Child Development and Behaviour, Oncology, Endocrinology, Dermatology, Gastroenterology, General Paediatrics, Emergency Paediatrics and Neonatal Intensive Care.
.
Dr Choya currently works as a Registrar at EWMSC as well as a Paediatrician at ABC Paediatrics. She is determined to improve the lives of as many children as possible. "Working in the public system I've encountered so many obstacles and limitations. My goal at ABC Paediatrics is to improve health care and provide opportunities our public system lacks. Our children deserve the best and we will go above and beyond to ensure they get this."
.
She is the mother of 2 active young boys and understands the importance of hard work, dedication and sacrifice. Dr Choya's calm, soothing, motherly approach will surely make you and your child comfortable while providing excellent care for your little one.

Biography
"At the age of ten, my family and I stood helplessly by as my sister passed away. It was that experience that ignited a spark in me to make every sacrifice necessary to become a Paediatrician; and not just any Paediatrician, but one whose compassion and genuine nature drives me to go above and beyond until all patients under my care are better. This spark has since grown into a strong flame and it continues to drive me daily to provide the best Paediatric care possible, through evidence-based practice and research. My goal is to alleviate every parent's nightmare: A Sick Child and my reward is knowing that a child's quality of life has improved from my care. I pride myself in my commitment to improving the health and lives of children, from newborns to adolescents." – Dr Giselle Pierre
.
Dr Pierre studied Medicine at The University of The West Indies, where she graduated as a Medical Doctor in 2010. Her passion and dedication to helping sick children led her to obtain both UK and UWI certification as a Paediatrician. She is a Member of The Royal College of Paediatrics and Child Health in the United Kingdom and holds a Doctorate of Medicine in Paediatrics.
.
Dr Pierre works as a General Paediatrician in ABC Paediatrics and also holds a senior position in the Paediatric Department, Eric Williams Medical Sciences Complex. She has dedicated her life to the improvement of our nation's children through her work in paediatrics over the past seven years. Her drive to perfect her craft has resulted in her extensive experience in a variety of settings.
.
Dr Pierre's passion to provide a high quality of care to all children is unparalleled. She believes in educating, supporting and empowering patients and families. She is easily accessible and her tranquil demeanour, friendly personality and patience are some of her hallmarks. She sees ABC Paediatrics as an exciting opportunity for holistic management of all patients and believes it will enrich the communities in which they serve.

Dr. Giselle Pierre
Paediatrician
Dr. Asha Pemberton
Paediatrician and Adolescent Medicine Specialist (Teen Health)

Biography
Dr Asha Pemberton is a Consultant Paediatrician and Specialist in Adolescent Medicine. Adolescent Medicine is the important specialty which places focus on the holistic development of tweens/teens as they navigate this stage of development. This includes their physical health and puberty, mental health, emotional intelligence, school and academic progress and general life coaching skills to ensure that each teen attains their fullest potential.
.
Dr Pemberton completed her undergraduate degree at the UWI St Augustine, where she graduated with honours and then pursued her Paediatric DM Training at the UWI, Cave Hill Campus. Thereafter she completed the Adolescent Medicine, sub-specialist fellowship at the prestigious Hospital for Sick Children (SickKids), in Toronto Canada.
.
Since returning to the Caribbean region for the past decade, Dr Pemberton has served as a Consultant to UNICEF (Eastern Caribbean), PAHO and the World Health Organization for her work regarding Adolescent Health and in particular strategies to improve the health and potential of adolescent girls and young women regarding their mental health violence prevention.
.
Dr Pemberton is currently at Associate Lecturer in the Faculty of Medical Sciences at the UWI and also works in the area of parent education and training.
.
At ABC Paediatrics, Dr Pemberton provides holistic services for teenagers which include general health visits, counselling for mental health concerns including coping, anxiety, depression, eating disorders, parent-teen conflict and peer related issues like bullying and social isolation. Her work also includes mindfulness based therapy as well as academic guidance and support for tweens and teens.
Biography
Dr Marlon Timothy graduated from The University of the West Indies in 2003 with his MBBS and then completed the Doctor of Medicine (DM) in Paediatrics in 2009. In August 2010 he started as a consultant Paediatrician at the Sangre Grande Hospital where he still practices today.
.
In 2012, he was accepted to join the prestigious Perinatal and Neonatal Medicine Program at the University of Toronto and was awarded a scholarship by the Ministry of Health to pursue this field of study. During that time, Dr Timothy worked at the three largest Neonatal ICU's in Toronto, The Hospital for Sick Children (SickKids), Mt Sinai Hospital and the Sunnybrook Health Sciences Centre where he excelled and graduated in 2014 as the Fellow of the Year. On his return to Trinidad in June 2014, he was appointed by the Minister of Health to form and Chair, the National Neonatal Committee.
.
Dr Timothy, on his return introduced life saving techniques and skills to the entire country which ultimately resulted in the drastic decline in morbidity and mortality associated with poor delivery outcomes and extreme preterm birth. He has spearheaded the development of the NICU at the Sangre Grande Hospital and is currently the Head of the Paediatric and Neonatal Units there, as well as at Port of Spain General Hospital.
.
Dr Timothy, an avid researcher has published case reports and studies and continues to work on ground-breaking research in Trinidad and Tobago in Neonatal and Perinatal Medicine.
.
Through the ABC Paediatrics team, Dr Timothy now adds his expertise in delivery room management, care of the preterm baby, care of babies with difficult deliveries and those with special issues. Additionally, he is also available to see pregnant mothers who have worrying antenatal ultrasounds and need information, planning and consultation on how such conditions will affect the pregnancy and the baby once delivered.
.
His Mission Statement is "To provide the best possible care for your baby from delivery to their first sentence."

Dr. Marlon Timothy
Neonatologist
Dr. Vanita Shukla
Paediatric Neurologist
Biography
Walt Disney said, "You can design and create, and build the most wonderful place in the world. But it takes people to make the dream a reality" and it's something Dr Shukla believes in.
.
Dr Vanita Shukla started her Paediatric career at Sangre Grande Hospital in July 2010 under the guidance of her first mentor, Dr Marlon Timothy. In December 2016, she qualified as a Paediatrician (MRCPCH, UK and DM Paediatrics, UWI). As she was passionate about improving the standard of care for our kids with neurological conditions, she was encouraged to pursue possible training routes by the brilliant Dr Avidesh Panday (Sir) and her remarkable teachers and colleagues at EWMSC and UWI.
.
In 2017, she was successful in securing a 2-year Senior Clinical Fellow position at the Bristol Royal Hospital for Children in the UK – a trust with an outstanding CQC rating and incomparable experience in epilepsy surgery, complex movement disorders, neurorehabilitation, stroke and neuromuscular services. Supported by her wonderful family, she made the tough decision to follow this rewarding path.
.
Dr Shukla's goal is to diagnose and manage our kids with neurological disorders while ensuring that her patients and their families get the best care. Her ultimate dream is to develop a Paediatric Neurology service with colleagues here in T&T, embodying the Bristol inspiration.
.
Exemplifying her exceptional role models, avidly learning from her patients and grounded by her nurturing family and amazing children, she is guided by the values of empathy, diligence and teamwork. "Losing a parent in childhood shaped me to persevere with kindness – I always strive to make her proud. Overcoming this tragedy was difficult, but our family became a real team. I grew up believing in community and solidarity."
.
"Being part of a child's story is the most rewarding gift. At ABC Paediatrics, the supportive environment fostered by our founders and the extraordinary team encourages all of us to push ourselves to achieve greatness for our patients." – Dr Shukla
Biography
Dr Nicole Solomon obtained her undergraduate medical degree, M.B.B.S, from the University of the West Indies, St. Augustine in 2006. Following this, she worked in the Paediatric Department EWMSC from 2007-2017. She left acting in the role of Consultant in the Neonatal ICU Mt. Hope Women's Hospital.
.
During her time there, she completed her Paediatric Medical Specialty Training and achieved the Doctor of Medicine (DM) Paediatrics from UWI in 2014. Additionally she attained membership to the Royal College of Paediatrics and Child Health, UK in 2016.
.
She was then accepted in 2017 as an International Clinical Fellow in Paediatric Nephrology at the Birmingham Childrens' Hospital, UK. The fellowship was funded by the ISN, International Society of Nephrology, and she returned to Trinindad in 2019 after completing two years of training. As a Paediatric Nephrologist she specializes in the care of children with kidney disease including those requiring dialysis and transplant.
.
Dr Solomon has worked closely with the Transplant Links Community (TLC) group, which is a charity that provides hands on training in kidney transplantation for surgeons, doctors and nurses in low-/middle-income countries. TLC has worked together with the National Organ Transplant Unit in Trinidad and Tobago by making paediatric renal transplant here a reality since 2008.
.
"My mission is to establish a Paediatric Nephrology service in Trinidad and Tobago and provide expert care to children in this country and the Caribbean region who suffer from common renal conditions as well as those in renal failure." – Dr Nicole Solomon

Dr. Nicole Solomon
Paediatric Nephrologist
Paediatric Gastroenterologist
Biography
Dr. Soman obtained his MBBS degree in 1997. Subsequent to his Paediatric Residency at the EWMSC, he migrated to the UK in 2000. He completed his training in Paediatrics and Paediatric Gastroenterology in 2008 achieving MRCPCH(Lond), CCTPaed(UK) and FRCPCH(Lond). He subsequently was appointed Consultant Lead for Paediatric Gastroenterology at the Midyorkshire NHS Trust and then Co-ordinator for the Yorkshire Paediatric Gastroenterology Network encompassing six NHS Trusts.
During this period he served as Named Consultant for student education for the Leeds and Sheffield Universities. He was a member of the Specialist Question Writing Group for Paediatric Gastroenterology for the MRCPCH Examinations. He held the position of Instructor for both the Advanced Paediatric Life Support and Neonatal Life Support Courses throughout the UK. He held membership of the British Society of Paediatric Gastroenterology Hepatology and Nutrition and the Association of West Indian Gastroenterologists.
Dr Soman returned to Trinidad in 2014 as a Lecturer and First Examiner for the DM Paediatrics with responsibility for DM candidate training, examination and syllabus preparation in conjunction with the Barbados and Jamaica campuses.
His passion remained in establishing the public health sector service, achieving the first Paediatric Gastroenterology clinic in June 2015 at EWMSC, single-handedly accepting referrals from hospitals nationwide including clinical support to neighbouring islands.
Dr Soman has always felt the need to give back and continues to work towards raising the standards of the Paediatric Gastroenterology service in the public sector. He views ABC Paediatrics as an innovative milestone in providing these services in the private sector. His vision for ABC Paediatrics is a comprehensive, multidisciplinary paediatric facility exceeding international standards of care in catering to the needs of children across the Caribbean.
Biography
Mr Roger Khan's love for children and surgery have led him along the path to help kids.
.
He was placed in Paediatric Surgery for his elective as an intern and has now been in the field of Paediatric Surgery for over 22 years. During which time, he has trained in Trinidad, UK Alder Hey Children's Hospital, Liverpool, Manchester Children's Hospital and Queen's Medical Centre Nottingham.
.
He worked under umbrella of varying sub-specialties and exceptional, well-renowned Paediatric Surgeons both locally and internationally.
.
He says that, "Collaborating with a team such as ABC Pediatrics allows a safe, expert and focused environment providing the best care possible."
Mr. Roger Khan
Paediatric Surgeon

Mr. Patrick Knight
Paediatric Neurosurgeon
Biography
Mr Patrick Knight is a Consultant Neurosurgeon that sub-specialized in Paediatric and Functional Neurosurgery, including movement disorders and Epilepsy.
.
He is a Fellow of the Royal College of Surgeons, England, within the specialty of Neurosurgery. He also has Fellowship training in the UK at Bristol Royal Infirmary and the Southmead Hospital, which are high volume tertiary level centres.
.
When he isn't operating Mr. Knight enjoys reading and finding advancements in modern medicine that can be easily applied locally. His mission on returning to Trinidad is to develop a world class Epilepsy surgery service which he is currently working on.
.
As Mr Knight says, "If you have a Paediatric Neurosurgical problem, go to ABC Paediatrics. Ask for me and I'll help you!"
Biography
Ms Lena Jogie graduated with a Masters in Clinical Psychology in 2011 from the University of the West Indies. Since then, she has worked with children and young adults focussing mainly in the areas of education and mental health.
.
Ms Jogie specialises in the fields of psychoeducational assessments, group therapy and teaching. She also has a background in teaching having taught at both the secondary and tertiary levels. It is because of this she says the quote "Everyone can learn, just not on the same day or in the same way" is quite true.
.
.
Ms Jogie has additionally worked to promote and sustain the field of psychology in Trinidad and Tobago. She has held positions of Assistant Secretary and Treasurer for the Trinidad and Tobago Association of Psychologists (TTAP) and continues to be an active member. She is also a British Psychological Society (BPS) registered test user with membership of the BPS and is on the BPS register of Qualifications in Test use (RQTU).
.
She promotes awareness in sharing her knowledge and experience in mental health and learning difficulties on both her professional Facebook page (www.lenajogie.com) and presenting at community events. She believes that it is important for parents to pay close attention to their child's educational and emotional development.
.
She says, "I enjoy working with children and young persons and helping their parents understand more about their learning and emotional profiles. Evaluations are useful to understand one's strengths and weaknesses. This inform parents more about their children and how to guide them academically, socially and emotionally."
Ms. Chitra Maharaj
Clinical Psychologist
Biography
Ms Chitra Maharaj is a Clinical Psychologist with extensive experience in the field of mental health. She graduated with a Master of Science in Clinical Psychology from the University of the West Indies in 2009 and has since been dedicated to continuing education.
.
Ms Maharaj works with individuals across the lifespan. She believes in the transformational power of early intervention and treatment of mental health conditions. As Sir Ken Robinson states, "You cannot predict the outcome of human development. All you can do is like a farmer create the conditions under which it will begin to flourish."
.
She is experienced as a clinician conducting psychoeducational assessments with children and behaviour and personality assessments with adolescents. In her opinion, early detection of learning problems is imperative in ensuring that no individual is at a disadvantage in reaching their academic potential.
.
Ms Maharaj's greatest passion is psychotherapy. She believes that the therapeutic relationship is the key to enhancing an individual's overall wellbeing. Her demeanour is serene and she personifies the principles of empathy, compassion and nonjudgement in her approach to clients. She enjoys therapy with young adults in particular, utilizing an evidence-based approach, tailoring the therapeutic interventions to suit the unique presenting concerns of her clients. She is also involved in group therapy interventions, focusing on building resilience and equipping individuals with coping skills for managing difficult emotions and distress.
.
She is affiliated with professional organizations, both locally with the Trinidad and Tobago Association of Psychologists and internationally with the American Psychological Association and the British Psychological Society.
.
To promote mental health awareness, she has made various media appearances and recently has turned to social media via her Facebook page and website www.chitramaharaj.com where she readily shares information on mental health.
Biography
Mrs. Sarah Lisa Subhan is a Clinical Psychologist who specializes in child mental health.
.
The aim of Mrs. Subhan's clinical work is to provide a voice to children. Her therapeutic practice is neurobiologically informed and child and family centered. The areas of specialization are: trauma, anxiety, depression, attachment, families of divorce, co- parenting and child custody evaluations.
.
Mrs. Subhan was trained at Loyola University Maryland and Kennedy Krieger Institute in Baltimore, Maryland. The Kennedy Krieger Institute is closely linked the Johns Hopkins Hopital. Mrs. Subhan's training at these facilities was focused on specialized therapies such as Play Therapy, Trauma Focused Cognitive Behavioural Therapy and Family Therapy. She was thereafter trained in Child Custody evaluations at William James College, Boston; Integrative Sandtray Therapy at Southern Sandtray Institute, Arkansas; Common Sense Parenting, Conscious Discipline and other expressive therapy approaches.
.
She is a member of the International Honor Society of Psychology: Psi Chi; an International Credentialed Sandtray Therapist and maintains International affiliation with the Association of Play Therapy.
.
Often, children are unable to communicate their feelings, thoughts and experiences through words. "Play is the child's natural medium of self expression for children" -Virginia Axline.
.
Expressive therapies such as play, art and sand tray allow children and adults to express themselves, process their hurt and find healing while in a safe and supportive environment.
.
Mrs. Subhan's practice values the family unit and views attachment as a critical element of development. Parents are guided to promote a safe, stable, emotionally balanced environment to promote secure attachment relationships with their children.
.
"You can discover more in an hour of play that in a year of conversation" – Plato.
"Children are not only sensitive to silence, but also to a voice which calls them… Out of that silence" – Maria Montessori.
Mrs. Sarah Lisa Subhan
Clinical Psychologist
Ms. Denesia Venus
Registered Dietitian
Registered Public Health Nutritionist
Breastfeeding Counsellor
Birth Doula
Biography
Ms Denesia Venus has over 7 years experience in the field of Nutrition and Dietetics and an MSc. in Public Health Nutrition from the University of Westminster (London).
.
She is very passionate about infant and young child feeding and the management of health and wellness in babies, children and adolescents. She works with clients and families in managing picky eaters, children with growth problems and assists with breastfeeding just to name a few.
.
Ms Venus uses a holistic approach to nutrition, health and wellness which involves a review of the family environment before engaging clients in health education and goal setting. For these reasons, she fits seamlessly with the ABC Team.
.
"Childhood nutrition in every circumstance is a slow steady process that requires patience, time, consistency and positive environments. We're here to work with you along the journey." – Ms Denesia Venus
Dr. Chrisma Maharaj
Dermatologist
Dr. Ronand Ramroop
Cardiologist
Biography
Dr Brequelle Timothy is a Consultant Obstetrician & Gynaecologist and Specialist in Reproductive Medicine. Dr Timothy obtained her undergraduate medical degree from the University of the West Indies (UWI) in 2008. She subsequently pursued post-graduate training in Obstetrics & Gynaecology and achieved specialist qualifications from both the UK (MRCOG) in 2015, and UWI (DM) in 2016. She is also a fellow of the American College of Obstetrician & Gynecologists (FACOG).
Dr Timothy was recruited for subspecialty training in reproductive medicine by Trinidad and Tobago IVF and Fertility Centre, which she successfully completed in 2019. She is currently pursuing a Master's Degree in sexual and reproductive health and is an associate lecturer with UWI. Dr Timothy firmly believes that patient education is the main facet of managing any medical problem/condition and is often lauded by patients for the way in which she takes the time to explain and answer their questions.
She has a particular passion for the education of girls and young women, to empower them to know more about their bodies. Dr Timothy aims to offer management (evaluation, diagnosis and treatment) of common gynaecological problems seen in the teenage girl, as well as provide education and guidance – all in a sensitive and caring environment.
Dr. Brequelle Timothy
Obstetrician & Gynaecologist
Reproductive Medicine Specialist
Flexible appointments and urgent care.
Call — 1(868)324-4222
"We found this office when as new parents we had an emergency with our one week old baby. We were so happy to know that there is a Paediatric office that's open in the evening/night. Dr. Pierre has been truly amazing. She's very thorough and I love that I can contact her with any concerns at any time (within reason of course) As a new parent this has been very helpful in reassuring me that all is ok with baby. Would definitely recommend Dr. Pierre and the team at ABC Paediatrics."

A Better Choice  In Paediatric Care
Same Day Appointments are Available.
ABC Paediatrics #139 Eastern Main Road, St Augustine, Trinidad, WI.